Apply
---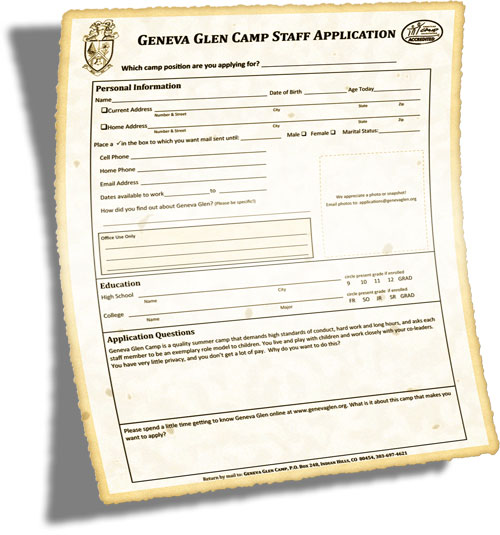 Thank you for your interest in employment at Geneva Glen Camp!
We have an open hiring process with no hard deadline and will hire until fully staffed. We can only reach many of our hiring decisions for the coming summer once we learn the availability of our returning staff members. We will acknowledge receipt of your application. If you have any questions or trouble with your application, don't hesitate to get in touch with us at applications@genevaglen.org. Thank you, and we look forward to receiving your application.
Now Hiring for summer 2023!
Geneva Glen is hiring for the following seasonal positions:
Counselors
Counselors share a cabin with one or two other counselors and about ten campers ages 6 to 16. Typically, counselors will work with their campers for one-half day, participating in all the various scheduled and elective activities. The other half of the day, counselors will work in a skill area of their choosing according to their desire, skill, and ability.
Work, Dish, Kitchen Crew
Krew members work in assigned teams to maintain the camp, including cleaning, washing dishes, prep cooking, and general maintenance. Krew members also spend time learning counseling and activity skills.(Apply before February 1 for best consideration)
Nurses
Being a camp nurse is ideal for a person's nursing career! Good, hard work in a beautiful, healthy Colorado mountain environment; opportunities for play and regeneration; working and playing day in and day out with healthy, happy campers and staff; and a supportive, harmonious atmosphere. Nursing care consists of evaluating and treating minor injuries and illnesses, medication administration, keeping a log of Health Center visits, giving supportive advice to counselors and camp staff, and identifying health problems that require a physician's attention.
Leadership Team Program Coordinator, Head of Hill, Head of Counselor Development, Head of Trainees, Crew Boss, Special Programs Director, Head Wrangler. (Application deadline: January 1)
Activity Directors
Areas: Alchemy, Archery, Assistant Wrangler, BB's, Bracelets, Crafts, Dance, Drama, G Smash (LARPing), Media, Magicology, Photography, Pool, Rifles, Shields, Sports, Store, Teen Leadership, Vespers, WILD.