Important Info
---
Notice!
We are currently updating this information for the 2022 summer and anticipate changes to the information below.
Check-In Sunday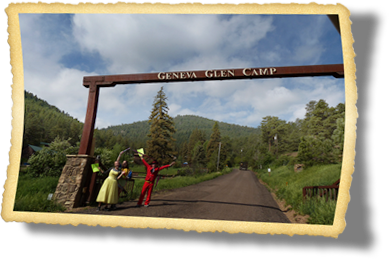 Checking in to Geneva Glen is an exciting, sometimes scary, time for campers. If they're new to camp, they may not have slept well the night before and their excitement makes for nervous stomachs and anxious questions. If they are a veteran, they are tremendously impatient to get to their dorm or cabin, reunite with camp buddies and meet the counselors! Check-In begins at 2:00 p.m. and lasts until 4:00 p.m. You will see our energetic Event Staff on the road directing traffic. When you drive up to camp, you will be directed to park in the meadow.
Check-In will begin promptly at 2:00 p.m. Please proceed through the following three steps before you unload your car. There are more than 200 campers to check-In, so we appreciate your patience!
Step 1: Bears Corner
All parents start at Step #1 outside of the lodge (Bear's Corner) to pick up a Check-Out Release Form. Completing this form is a requirement and ensures that we will release the camper only to the person you designate. Complete this form and turn it in at Step 3. Our staff will be on duty here to provide your Release Form while verifying your camper's paperwork.
Step 2)
Parents and campers are heralded by a welcoming song from our counseling staff, who give a "campy" howdy to all and officially open up Check-In for the next two steps – the nurse's station and housing! At Step #2, the Geneva Glen RNs review the Health Form, answer your specific questions and medical concerns, and record all medications to be safely stored at the Health Center. One of our camp doctors (pediatricians) is at this station to provide health screening and take special instructions about your camper's needs.
Only go to Step 2 (Medical) if:
Your release card indicates that you need to go to Step 2
Your child has medications to be administered during camp
You have questions for the camp doctor or nurses
Step 3
Housing! This is the most fun and the most anticipated! Campers meet their counselors and they are assigned to their living groups in accordance with grade level. WE TRY to accommodate requests for buddies to be bunked together; however, we will not place more than two friends in the same living group. Parents and campers are escorted to their car to gather their luggage and the counselor will help haul everything up to the cabin or dorm. Luggage "drop-off points" are conveniently located in an effort to save the backs and lungs of the parents! The "Event Staff" collects and delivers the luggage to the cabins later in the afternoon.
Sportwear Sales
Geneva Glen's boutique offers camp-friendly fashions that are high quality and an excellent value! Proceeds go toward Geneva Glen camperships and our sportswear sales representatives often are members of our Board, along with volunteers, and alumni.
May We Help You?
hen you arrive at camp, you should see some of our "ambassadors" (members of the camp Board of Directors or Alumni) who will be on hand to greet you and answer any of your questions about camp or direct you during the Check-In process.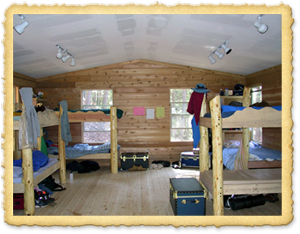 Housing
Boys live in dorms that house 16 campers and counselors, and girls live in cabins which hold 12-13 campers and counselors. When campers arrive to their dorm or cabin, one counselor will be there with campers who have checked in. The counselors tag-team and the other heads back down to the lodge to meet the next member of the group. Bunks are preselected by a lottery. Our counselors are experts at welcoming and embracing the camper into the group. The feelings of nervousness quickly are replaced by feelings of belonging.
Helpful Hints: Time to leave!

Parents are encouraged to meet the leaders, acquaint themselves with the counselor biographies that are presented at Step 3, check out the accommodations, reassure their camper ... and leave! Parents who hang around too long can embarrass their child and inhibit the normal interaction between kids and the get-acquainted activities of the group. Furthermore, if another camper in the cabin is feeling a little anxiety, the presence of a parent can intensify the onset of homesickness.
At about 4:00 p.m., the cabin or dorm may head to the Meadow to meet other groups or practice a skit for that evening's Council Fire. At 4:45 we all meet in the Council Ring for our welcome, introductions and mini-orientation, including a presentation of various areas and glimpses of coming events. You can feel the electricity as the campers catch the "Spirit of the Glen!"
Pets at Check-In & Check-Out
We love dogs and understand that camp is fun for our furry friends; however, we do not allow pets at Check-In and Check-Out (no, not even if they are on a leash). You may leave your dog in the car, but please know that even though we are in the mountains, it does get hot inside vehicles. Please abide by this policy and leave Fido at home.
Myths and Magic
Check-in for Myths and Magic is slightly different than the regular sessions. Please download and read the Parent Trail Guide. If this will be your first summer attending Geneva Glen, the Parent Trail Guide containing this check-in information and more will be mailed to you in the spring.
---
What Should You Bring to Camp?
Campers should bring enough clothing for two weeks. Campers who stay for more than one session are responsible for their own laundry on the changeover Saturday. Your camper's wardrobe should include: underwear, socks, three or four pairs of jeans, shorts, sweatshirts, tee shirts, sneakers and sturdy shoes or boots. Play clothes are great and practical for camp – just remember that nothing will stay clean (tie up canvas laundry bags work well)! The best form of camp luggage is a hard-sided foot locker.
Helpful Packing Tips
Campers get to experience at least one overnight and Colorado nights can be chilly!
Clearly identify your child's clothing with his/her name.
Do not bring expensive items – they are inappropriate for camp. Camp is for personal relationships, individual growth and experiencing nature.
Campers are not allowed to have cellphones at camp. A camper should only bring a cellphone if flying in from out-of-state. Cellphones will be kept in the camp safe.
See our packing list for a complete list of what to bring to camp and what NOT to bring to camp!
---
Homesickness
Homesickness is natural and may strike any age, but it's generally not a problem. What works best is to keep our campers so busy having fun that they forget about their worries and "home." During staff orientation, we conduct several sessions and specific role-playing exercises with the guidance of psychologists and other trained professionals in an effort to provide our leaders with professional tools to use with homesick campers. We do not take homesickness lightly and our experience indicates that phone calls to or from family members are not a remedy. If your camper does become homesick and it is serious or detrimental to the child's camp experience, we will contact you. Campers enjoy receiving messages from home, and we encourage you to be positive and upbeat in your letters.
Most campers will feel homesick at some point during their stay at camp but will be able to get through it! Read our homesickness page for a more in-depth discussion on this subject and helpful tips to prepare your child for camp.
---
Care Packages & Mail
Please observe these care-package rules:
Please try to limit the number of care-packages sent to your child, as we have limited storage space and there often can be a wide disparity in terms of the numbers of packages received by different children in the same dorm/cabin (it's always a good idea to encourage sharing care package contents).
Avoid sending care packages with food. A care package with food goes into locked storage in the lodge, in order to prevent critters coming to the dorm and cabin!
Please ship (mail) your care-package; do not drop it off at Check-In or during the session; we are not equipped to handle, store and distribute the large quantity of care packages if they are brought at Check-In. ... In terms of in-session dropoffs, there are several factors - namely the gated entry to camp and the effect that an unexpected adult/parent at camp can have on homesick campers. This situation requires us to request that all care-packages be sent/delivered via mail, UPS, FedEx, etc.
Normal U.S. mail should be addressed as follows:
Camper Name
Geneva Glen Camp
P.O. Box 248
Indian Hills, CO 80454
UPS or FedEx (for overnight deliveries ONLY):
Camper Name
Geneva Glen Camp
5793 Santa Clara Road
Indian Hills, CO 80454
---
Health Services
Geneva Glen's philosophy toward "Health Care" is derived from the first four letters of the word: HEAL. Our camp environment is one that adds health to the individual rather than subtracting illness from an individual. GG's mission addresses the protection and development of the whole child, and health and wellness is a component that helps to sustain and promote the wholeness of the child / youth.
To learn more about our health services program see the Health Services Page.
---
Transportation
Detailed travel information is sent to all out-of-state campers to clearly specify our policy. We will meet your child at the airport gate and return him/her to the airport gate. We need to know of your confirmed flight arrangements well in advance. A photo of the camper to be met is required. Our counselors always wear a GG shirt, so they can easily be located.
Click here to fill out your camper's travel information in your CampInTouch account
---
Change-Overs
Change-over weekends are a time of staff in-service training, followed by recuperation for our staff and they take advantage of several hours of well-deserved time off before the next group of enthusiastic campers arrives. We likewise encourage camper parents to make arrangements for the change-over campers to enjoy a relaxed respite – please plan accordingly in advance for your child's change-over plans. Typically, out-of-state campers (who stay on for an additional session) will plan to go home with a Geneva Glen friend for the night to do laundry, watch TV and take a luxurious bath or shower! These details need prior permission from all parents involved, and we ensure that parents are informed concerning such arrangements.
---
Visits to Camp and Visiting Day
Because Geneva Glen's regular sessions are only two weeks, a visiting day is not scheduled and visits to camp are not allowed. If your camper forgets something and you live a short drive away, please mail the forgotten item.
If it's an absolute necessity that you come to the camp, please call ahead and coordinate with our concierge. It is important that you be as invisible as you can and to leave as soon as possible! We don't wish to make you feel unwelcome, but please understand that when a borderline homesick camper sees any "mommy" or "daddy" it can be a serious disruption to the camper's experience and adversely affect others in the cabin group. Feel free to call and let us help you make appropriate arrangements ahead of time.
Off-Season Visits
Often we are asked if a family can come up and see the camp during the off-season. We are unable to provide camp tours during the off-season and instead offer the opportunity to see the camp during our annual spring Strawberry Pancake Breakfast in late May. During the Strawberry Pancake Breakfast, members of the camp's Board of Directors, some GG staff, and the camp administration are on hand to serve a free breakfast to first-year camper families and provide a personal camp tour of the facilities. This event helps families see the camp and hear about Geneva Glen's unique history – while meeting other parents, cabinmates, members of the camp family and alumni.
---
Leaving Early and Coming Late
Geneva Glen packs the sessions with challenging opportunities, fellowship, ceremonies, and fun. Cabin groups bond immediately on the first day, and a camper who arrives late invariably will feel a period of alienation, which affects the entire cabin's spirit. The planned activities, cabin morale, and emotional gatherings culminate on our last Friday and/or Saturday-morning rituals. Our policy encourages a full stay at camp and if sports schedules, drama tryouts, vacation plans, etc interfere with a full-term stay, then we will try to arrange a change to another session.
It may be tempting to consider taking your camper away from camp for a few hours. Doing so is very detrimental to the unity of the cabin group and we STRONGLY recommend against such actions. We recognize the value of a complete, uninterrupted camp session. Emergencies can be accommodated, but the most satisfying and successful camp experience is one that is not interrupted by outside distractions.
---
Check-Out Saturdays
Check-Out takes place on the final Saturday of your camper's two-week session. You may pick up your camper from 10:00 a.m. to 11:30 a.m. Please anticipate that the process of checking out may take a little longer than you plan – there are a lot of good-byes! We are giving out awards, singing songs, and saying goodbye at the Council Ring until 9:30 a.m. If you arrive early, please wait in the meadow until the campers return to their cabins and dorms. Go to your child's cabin or dorm and check out with a counselor. The counselor will give you the Release Form you signed at Check-In, and this release needs to be signed by the responsible person at Check-Out. Please don't forget to swing by the lodge to pick up any medications sent with your camper and sort through the lost & found and mail.
Lost of Found
It is essential to locate all of your camper's belongings before leaving camp. A thorough collection of unclaimed items does not occur until after the end of summer, but you may find some items on Bears Corner located near the bottom of the lodge. You can eliminate most lost-and-found woes by clearly identifying clothing and personal items with the camper's name!
During the session, all lost-and-found articles are kept in a big box in the lower level of the lodge and counselors and campers may check daily for articles that are missing. During Check-Out, parents and campers will find all lost-and-found items spread out on Bears Corner. Unclaimed items are bagged and stored according to each session, until after summer. When phone or e-mail requests are sent in, we will attempt to match those requests to the item. If we find an item with the campers name in it, we will contact the parent and make arrangements to have the item returned. Most of the time, we leave the item bagged and families who live locally may arrange to pick it up. Families who live out of state will receive the item by USPS. In September, we donate all unclaimed items to a local shelter, mission, or charity.
If you find you left something behind, call the camp at 303-697-4621, extension 17 and leave a message with details. We'll do the best we can to re-connect you with your lost item(s).
Please understand that processing lost and found is about the last thing we do! We admit we are not very good at it, and we thank you for your understanding and for doing everything possible to prevent it. We do everything we can to ensure that the camper goes home with all items brought to camp, but that's just not going to happen in every case. We keep valuable items such as jewelry, cameras, keys, prescription glasses, etc., in the office safe and we hold them for a year before disposal.
The Long Drive Home
So often, we hear from parents that their child was "wiped out" at the end of camp or that they didn't talk very much about it on the way home. There's no doubt campers may be tired that day, because they probably were up later than usual the night before. There always is an adjustment back to the "real world" after camp, and there may be some things that you may not be able to see. Usually, the camper is dirty and tired – that's all on the outside. What's going on inside is what really matters and sometimes it takes a while to hear about it. Please remember – they've been very active for two weeks and everyone in the camp community is immersed in the experience.
Typically, on the last night of camp, we stay up late so your camper may need a little sleep after returning home. It's normal for your child not to talk about the camp experience; however, some campers chatter incessantly and you can't get a question in sideways! Simply keep in mind that it's different for every child. The main thing to remember is that your child experienced a great deal and may not be able to articulate all of their feelings about camp. Just be there for when they do want to talk and encourage them to write to their counselors or cabinmates if they feel like it.
---
Frequently Asked Questions
What if there is an emergency and I need to get a hold of my child?
The camp conceirge desk answers the phone throughout the day and evening and will provide assistance. After hours, the automated camp telephone system routes calls to different persons and locations, and indicates phone numbers and emergency numbers. In the highly unlikely event that cell phone service in addition to the phone service to Indian Hills is down, the most direct means of communicating an emergency is through the Jefferson County Sheriff's Dept. The number is 303-277-0211. Your local 911 also can notify Jefferson County Sheriff's Dept.
Can my camper be housed with a friend?
Camp is a perfect time for forging new friendships. We try to not bunk more than one pal with another. If three are together in such a small cabin group, it can be hard on the other kids in the cabin. We'll try to accommodate your requests, but we also will keep our limitation policy in mind when assigning housing.
What if my child is a picky eater?
The meals at camp are balanced and nutritious and are made with a child in mind. Our counselors are trained to be supportive of good eating habits and good table manners. Each camper eats at least ONE of every item from the plate, and our counselors model this behavior. No camper starves at Geneva Glen and options are always available (but not used as a substitute for food the camper simply doesn't like).
Typical GG Menu:

Breakfast – Scrambled eggs, cereal, sausage, bananas, and orange juice
Lunch – Grilled cheese sandwich, tomato soup, carrot and celery sticks, chocolate chip cookie
Dinner – Grilled chicken, rice, steamed vegetables, ice cream
How do you handle bed-wetting? What if my child wears pull-ups?
Campers sleep in their own sleeping bags. If a camper wets the bed, the counselor is trained to be discreet and quiet about the incident and stifle any teasing from others in the group. Other kids are removed from the area while the camper and the counselor together take the bag to be dropped off for laundering. The camper will be provided another sleeping bag until his/her's is returned. A child using pull-ups at camp is not uncommon. Campers using pull-ups are responsibile for disposing the pull-up in a plastic bag. Most will discretly change in their sleeping bag or in the bathroom.
Is Knighthood I a "prerequisite" for Knighthood II?
No - Knighthood always is a month and it is divided into a pair of two-week sessions. The names are for chronological reasons only. One is not a prerequisite of the other.
What's the difference between Knighthood I and Knighthood II?
Knighthood I unfolds the history of the Arthurian legends and the Round Table stories, by learning of Merlin. The culminating event of Knighthood I is "Merlin's Masque," an all-day play that takes place in the Council Ring in three acts and dramatizes the book entitled The Crystal Cave by Mary Stewart.
Knighthood II picks up where Knighthood I ends in the story line asMerlin ushers in the rise of King Arthur and the coming of Camelot. During Knighthood II, campers vote for a "Court" that will portray the King, Queen, and the Lords and Ladies of Camelot. The culminating event of Knighthood II is a day-long "Pageant" in six acts, performed by members of the Court. All cabin and dorm groups present "a gift" to the Court during the Pageant, in the form of music, drama, dance, or a tangible gift. Knighthood I and Knighthood II end with Ladies Court and Knights Induction, the ceremony with the most meaning during these two sessions.
Which session best suits my child?
ach of our theme programs are unique and distinctive. They date back to the early years of camp and serve a very individual purpose. Each theme offers a completely different expression and you may find one particular session best suits your camper.
Geneva Glen offers four themes through five sessions, all appropriate from age six and up. Each session is cherished for its position in the camp's heritage. Each theme focuses on a particular value that is unique and unequaled in residential summer camps. Contact camp for more information.
Can I sign up for next year?
No – we begin a new enrollment list each year. Our application process opens each year at the end of October for all out-of- state families, veteran families, and new alum families. In January we begin enrolling new families.
When can parents come?
Fall brings wonderful weather and beautiful sights to Geneva Glen, and is now the setting for a number of opportunities for family camp weekends and events! We are planning on offering experiences for parents who have never been to camp to experience the Magic of the Glen along with their children. More information is available at www.genevaglen.org/fallweekends.
Does Geneva Glen offer scholarships?
es! The goal of Geneva Glen providing tuition assistance and camperships is to ensure that camp is accessible to all children through financial support generously donated by our camp family each year.
eneva Glen also implements a Tuition Assistance Program, which is similar to the Scholarship Program, in an effort to help families with tuition costs. While camp offers major scholarship assistance to a limited number of very low-income families to ensure that children from all socioeconomic backgrounds have the opportunity to participate in the Geneva Glen experience, we also want to help families when tuition costs may make attending camp difficult or impossible. We budget to provide varying amounts of tuition assistance. We do apply specific eligibility criteria for this assistance and we protect confidentiality. Please contact Christa Redford at 303-697-4621 x 25 or christa@genevaglen.org for more information about scholarships and tuition assistance.